Inabata takes part in Semicon Singapore 2004
nabata participated in Semicon Singapore 2004 which was held May 4-6 at the Suntec Singapore International Convention & Exhibition Centre (Suntec Singapore) in Singapore.
At this event, Inabata showcased mask blanks manufactured by Ulvac Coating Corp., handlers by Shinano Electronics Co. Ltd., <>http://www.synax.co.jp> and VUV lamp units by M.D. Excimer Inc. <http://www.mdexcimer.com
Due to the SARS outbreak, this trade fair was not held last year. However, the revival of the semiconductor industry was reflected in the large numbers of visitors to the Inabata booth, where business was brisk throughout the three days.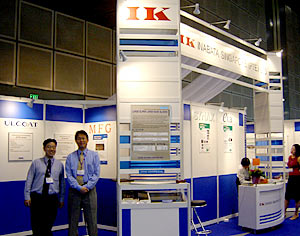 SEMICON SINGAPORE 2004
---