We are expanding our business utilizing 10 manufacturing
and processing bases in the region.
Information &
Electronics

We sell printer-related materials and materials related to liquid crystal displays (LCDs) for the home appliance and office automation (OA) equipment industries.

Chemicals

We sell various resin materials to plastic manufacturers and rubber materials, additives, and other products to the automobile industry. We also supply components to Japanese housing equipment manufacturers advancing into the region and sell decking materials made in Japan.

Plastics

In addition to selling plastic materials for the automobile and motorcycle, home appliance, OA equipment, packaging material, and beverage industries, we also sell film and sheet products in the region. We also export film and sheet products to Japan. We deal in plastic compounds as well as manufacturing and processing of films and sheets at multiple locations.

Life Industry

We process marine and agricultural products and export them for sale in Japan and the U.S. We also sell cosmetic substances made by our French affiliate Pharmasynthese S.A.S. to the cosmetics industry in the countries in this region.
Network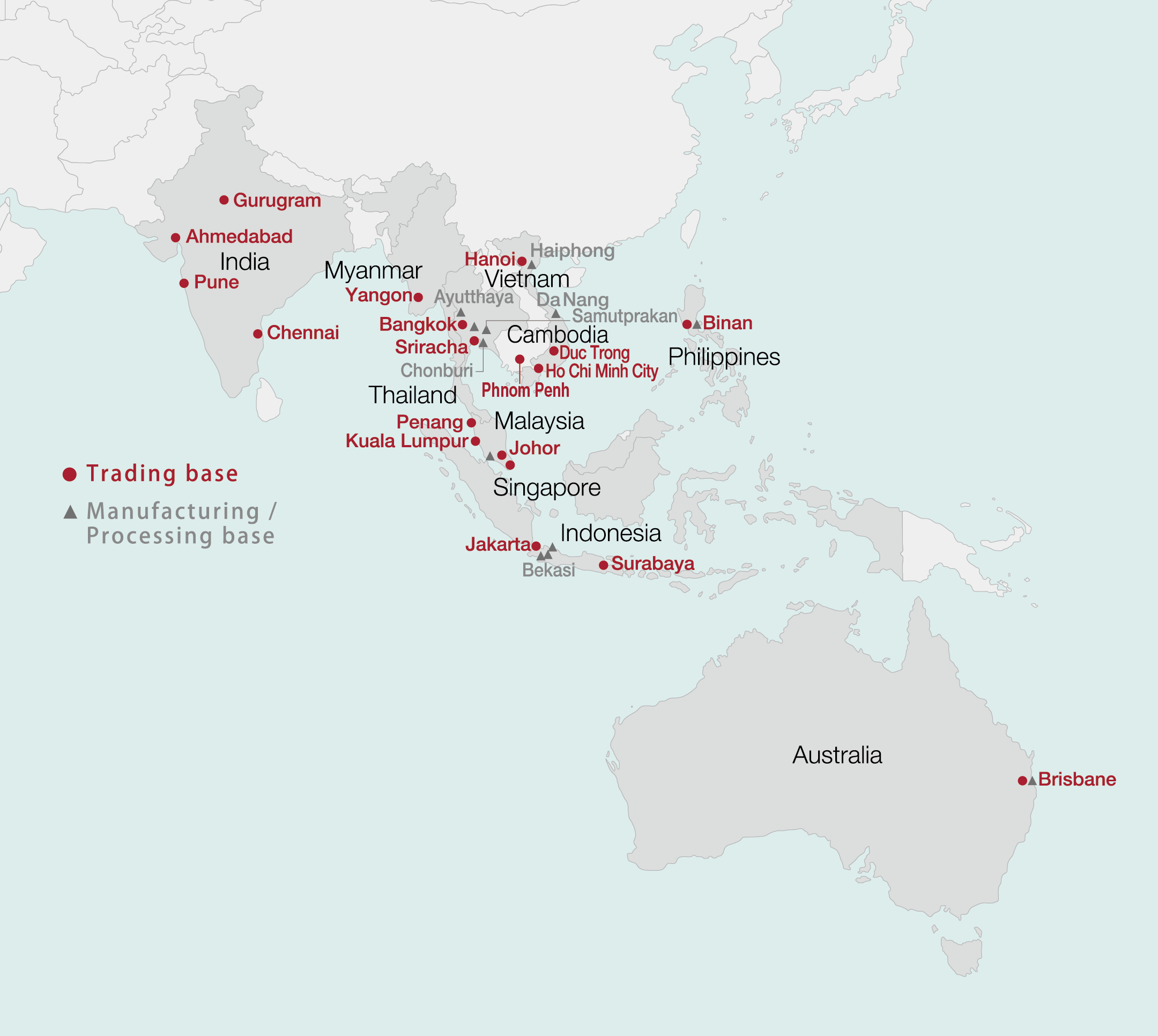 India

Inabata India Private Ltd.

Import/export and sale of synthetic resins, electronic materials and chemicals
TEL: +91-124-437-2101 / FAX: +91-124-437-2104
319, Time Tower, Sector-28, Main MG Road, Gurugram, Haryana, 122002 INDIA

Inabata India Private Ltd., Chennai Office

TEL: +91-44-4743-0999/4557-0444 / FAX: +91-44-4269-1999
Door No.6C Century Plaza Old #560-562, New #526, Anna Salai, Teynampet, Chennai, 600018 INDIA

Inabata India Private Ltd., Pune Office

TEL: +91-96738-18180
Awfis Space Solution Pvt. Ltd. Floor-G&1, Teerth Technospace, Block-C, Mumbai Bangalore Highway, Baner. Pune 411045 INDIA

Indonesia

PT. IK Precision Indonesia

Molding and processing of synthetic resins
TEL: +62-21-8910-6602 / FAX: +62-21-8910-6604
Jl Jababeka XVII-F, SFB Blok U23C, Kawasan Industri Cikarang Bekasi 17530, INDONESIA

PT. Inabata Creation Indonesia

Processing of grip tapes for tennis rackets
TEL: +62-21-5011-6020 / FAX: +62-21-5011-6019
Jl. Serui Block AE5, Kawasan Industri MM2100 Desa Jatiwangi Kecamatan Cikarang Barat Kabupaten Bekasi 17845, INDONESIA

PT. Inabata Indonesia

Import/export and sale of synthetic resins and chemicals
TEL: +62-21-252-1514 / FAX: +62-21-252-1979
Summitmas 1, 11th Floor Jl. Jend. Sudirman 61-62, Jakarta 12190 INDONESIA

PT. Inabata Indonesia, Surabaya Office

TEL: +62-31-5310612 / FAX: +62-31-5310626
Graha Bukopin Surabaya 10th Floor Jalan Panglima Sudirman 10-18,Surabaya 60271 INDONESIA

PT. S-IK Indonesia

Compounding of resins
TEL: +62-21-897-0432 / FAX: +62-21-897-0344
EJIP Industrial Park Plot 4L, Cikarang Selatan, Bekasi, 17550, INDONESIA

Malaysia

Inabata Malaysia Sdn. Bhd.

Import/export and sale of synthetic resins
TEL: +60-3-2078-8588 / FAX: +60-3-2078-8051
Letter Box No.83, 25th Floor, Ubn Tower 10, Jalan P. Ramlee, 50250 Kuala Lumpur, MALAYSIA

Inabata Malaysia Sdn. Bhd., Johor Office

TEL: +60-7-224-6387 / FAX: +60-7-224-7153
Unit 21-06 & 21-07, Menara Landmark No.12 Jalan Ngee Heng, 80000 Johor Bahru, MALAYSIA

Inabata Malaysia Sdn. Bhd., Penang Office

TEL: +60-4-656-9360 / FAX: +60-4-657-9364
1-05-03 Menara IJM Land Lebuh Tunku Kudin 3, 11700 Gelugor Penang, MALAYSIA

Compounding of resins
TEL: +60-7-652-3306 / FAX: +60-7-652-3570
No97 Jalan Sawit Baru6 Taman Perindustrian Sawit Baru, 81030 Kulai Johor, MALAYSIA

Myanmar

Inabata Thai Co., Ltd., Yangon Branch

Import/export and sale of synthetic resins, chemicals, food, and machinery
TEL: +95-1-534-494 / FAX: +95-1-502-429
Room 206, Building E, 2nd Floor Sabal Street, Yuzana Highway Complex Between Han Thar Waddy Rd and Nar Nat Taw Rd Ward 6, Kamayut Township, Yangon, MYANMAR

Philippines

IK Plastic Compound Phils. Inc.

Compounding of resins
TEL: +63-49-540-6881/2/3 / FAX: +63-49-508-1793
Lot 4&5, Block 2, Phase 7, Laguna Technopark-SEZ, Barangay Mamplasan, Binan Laguna 4024, PHILIPPINES

Inabata Philippines, Inc.

Sale of synthetic resins
TEL: +63-49-540-6930/1/2 / FAX: +63-49-508-3026
CCMC Compound 3, Lot 4&5 Block 2, Phase 7A, Laguna Technopark, Inc.-SEZ, Binan, Laguna, 4024 PHILIPPINES

Singapore

Inabata Singapore (Pte.) Ltd.

Import/export and sale of synthetic resins, chemicals and electronic materials
TEL: +65-6220-0796 / FAX: +65-6222-7972
78 Shenton Way #18-00, SINGAPORE 079120

Thailand

Manufacturing of plastic films
TEL: +66-2-709-3662 / FAX: +66-2-324-0707
475 Moo4 Bangpoo Industrial Estate, Sukhumvit Road,
Praeksa Subdistrict, Muangsamutprakarn District,
Samutprakarn Province 10280, THAILAND

Hi-Tech Rubber Products Co., Ltd.

Molding and processing of rubber products
TEL: +66-35-364-087 / FAX: +66-35-364-086
103/9-10 Moo 4 Bangprakru, Nakornluang, Ayutthaya 13260 THAILAND

Inabata Thai Co., Ltd.

Import & export and sale of synthetic resins, chemicals, food, and machinery
TEL: +66-2-625-3200 / FAX: +66-2-231-3346
191 Silom Complex Bldg., 14th Fl., Silom Rd., Silom, Bangrak, Bangkok 10500 THAILAND

Inabata Thai Co., Ltd., Sriracha Office

TEL: +66-33-043-315 / FAX: +66-33-043-315
4/222 Harbor Mall, 5th Floor, Room No.5A05, Moo 10, Sukhumvit Road, Tungsukla, Sriracha, Chonburi 20230, THAILAND

SIK (Thailand) Ltd.

Compounding of resins
TEL: +66-2-709-3556 / FAX: +66-2-324-0813
477 Moo4 Bangpoo Industrial Estate, Sukhumvit Road,
Praeksa Subdistrict, Muangsamutprakarn District,
Samutprakarn Province 10280, THAILAND

Vietnam

Manufacturing of plastic films
TEL: +84-236-3783-000 / FAX: +84-236-3783-004
Road No.1 & 14, Hoa Cam Industrial Zone, Hoa Tho Tay Ward, Cam Le District, Da Nang City, VIETNAM

Inabata Vietnam Co., Ltd.

Import/export and sale of synthetic resins, electronic materials and chemicals
TEL: +84-24-37725-119/120 / FAX: +84-24-37725-121
Unit 902B, Sun Red River Building, 23 Phan Chu Trinh St., Phan Chu Trinh Ward, Hoan Kiem District, Hanoi, VIETNAM

Inabata Vietnam Co., Ltd., Ho Chi Minh City Branch

TEL: +84-28-39251-935 / FAX: +84-28-39251-936
Unit 206, 2nd Floor, Zen Plaza Building, 54-56 Nguyen Trai St., Ben Thanh Ward, Dist.1, Ho Chi Minh City, VIETNAM

SIK Vietnam Co., Ltd.

Compounding of resins
TEL: +84-225-3618-659 / FAX: +84-225-3618-661
Land Plot No. A7-8., Nomura-Haiphong IZ, An Hung Commune, An Duong District, Haiphong City, VIETNAM