Growing with our customers
as a partner providing creative solutions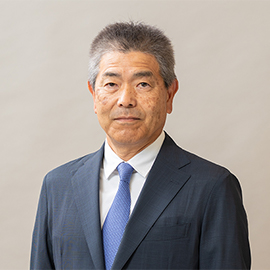 Koji NakanoExecutive Officer,
General Manager,
Plastic Div.Ⅰ
Products & Services
Polymer Departments I,
Polymer Departments II

We sell plastics, molded plastic products and machinery for use with building materials, engineering materials, daily goods, automotive components, electrical materials, food containers, and medical supplies to a wide range of industries around the world.

Vinyl chloride plastics
Plasticizers
Additives
Commodity resins (olefin type, styrene type, PET resins)
Various compounds
Various elastomers
Engineering plastics
Synthetic rubbers
Plastic products (profile extrusion products, film and sheets, packaging materials)
Machinery

Performance Plastics Department

We offer an optimized supply of plastic materials globally with a focus on office automation (OA) and home appliance as well as electric and electronic product markets. We act as a coordinator between clients and suppliers. For Japanese customers planning for global expansion, we offer support through market surveys and by providing information such as on labor and legal issues.

From commodity plastics to super engineering plastics
Molding machines and auxiliary equipment
Laser welding machines
Specially molded plastic products and related materials
Recycling materials

Automotive Products Department I,
Automotive Products Department II

We provide comprehensive solutions for plastic materials, logistics, and financing for manufacturing equipment, mainly targeting the auto market.

From commodity plastics to super engineering plastics
Molding machines and auxiliary equipment
Laser welding machines
Heat dissipating products
Specially molded plastic products

Business Development Department

We leverage our expertise and knowledge to provide comprehensive support for manufacturing, from material selection to special molding techniques, processing, and products.

Stretchable printed circuit boards (PCB)
Plating technology for high melting point materials
Technology to join materials of different substances
"Impact-processed" aluminum products
Composite of cellulose nanofiber (CNF) and plastic
Biodegradable plastic
Topics
Top-level plastic compound production

With 7 production facilities in 7 countries, including China, Vietnam, and Indonesia (Total:183,600 tons / year: as of July 1, 2020), Inabata is one of the top plastic compounders run by a Japanese trading company.
Through our comprehensive support framework of which these overseas bases are part of, Inabata is capable of providing useful information promptly, as well as one-stop service for price negotiations, and stable supply.

About Plastics Compound Business Office

*Stretchable PCB

Specialized processing methods and technology to meet customer needs

Plastics Division I is capable of meeting the needs of each and every one of our customers combining its accumulated expertise, know-hows, and the global network.

Stretchable PCB
Plating technology for high melting point materials which is usable in high-temperature areas where it could not be used before.
Technology to join materials of different substance
Capable of joining metal and plastics, or different types of plastics without using adhesives.