Strengthening businesses
in renewable energy, IoT, and other growth markets
The Information & Electronics Division III provides highly specialized solutions that cover a wide range of activities, from supplying raw and processing materials to manufacturing products, in various fields such as renewable energy, semiconductors and electronics components, and industrial materials.We make meticulous efforts to meet customer needs. Our extensive global network enables us to source optimum materials. Our services include vendor managed inventory (VMI), utilizing our strengths as a trading company.
To strengthen business in the growth markets, we are expanding our products and materials in the renewable energy field such as devices for generating hydrogen, blades for wind turbines, and fuels for biomass power generators, with solar cells as well as lithium-ion battery (LiB) materials and components as the core. We are also focused on increasing business in low-power enterprise servers, containerized data centers, and their peripherals for the expanding IoT market.
We will continue to strive to develop human assets with specialized knowledge and skill, as well as strengthen our global network. Our goal is to serve as a solution provider to resolve the problems faced by our customers.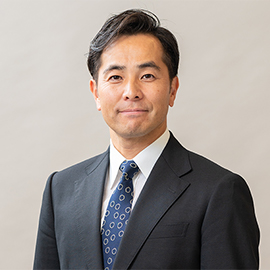 Katsutoshi TanakaGeneral Manager,
Information & Electronics Div. III
Products & Services
Sales Department I

We sell various industrial products.

Various industrial, electronics, and optics materials

Functional films
(industrial, electronics, and optics use)
Tape and tape materials
(base materials, liners, and various chemicals)
Hygienic supply materials
(non-woven fabric, etc.)
Fluorine resins
Phosphorescent materials
Transparent polyamide materials
Smart card materials
3D sensors and sensor materials
Industrial robots
Wireless chargers
Materials related to 5G technology

Sales department II

We sell semiconductor-related materials, electronic device materials, and various industrial materials.

Semiconductor and electronics peripheral components

Mask blanks
(semiconductors, photomask molds for FPD)
Pellicles
(anti-dust cover to protect photomasks)
Compound semiconductor wafers
Bottom Anti-Reflective Coating (BARC)
Semiconductor encapsulants
Dicing tapes
Semiconductor wafer coating materials
300mm silicon wafer
High-purity aluminum
Bayer processed aluminum
Various sensor materials

Components for processing equipment

Biotechnology

Adhesion-inhibiting coating materials for cell cultures

Sales Department III

We sell products and materials for energy-related fields such as energy generation and energy storage.

Energy generation

Solar power generation system peripheral components
(solar panels, power inverters, mounting structures)
Next-generation photovoltaic materials
(silver paste, encapsulants, silicon adhesives)
Wind power system peripheral components
(small wind turbine, power inverters)
Hydrogen energy peripheral components
(AEM electrolysers, fuel cells)
Fuels for biomass power generation

Energy storage

Lithium-ion battery materials
Lithium-ion battery cells
Modules
Battery assembly equipment
Capacitor materials

Energy conservation and thermal management

Cloud system for artificial intelligence service and blockchain technology
Low-power ARM enterprise servers for data storage
Components for motors and generators
Components for inverters and converters
Topics
Server racks

Integrated approach to IoT business

Creating a new business that grows into one of the company's main pillars is the Information and Electronics Division III's most important mission. Our goal is to grow IoT business as a fourth pillar in addition to energy, semiconductor, and industrial materials businesses.

Fundamental working flow of IoT

*the optimum environment and actions

For "1," Sales Department I&II is developing business related to sensors, power sources for operating sensors, and devices for supplying electricity to these power sources. For "2," Sales Department III is developing business in electricity-saving servers, system architecture, and consigned authentication testing, and for "3" in the future, the division aims to market data analysis and data. Leveraging Inabata's global network, and accelerating synergy within, the division aims to create values that are "typically Inabata."