Strengthening businesses
in renewable energy, IoT, and other growth markets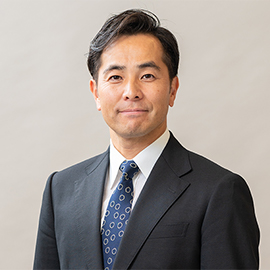 Takuhiro IsoyamaGeneral Manager,
Information & Electronics Div. III
Products & Services
Sales Department I

We sell various industrial products.

Various industrial, electronics, and optics materials

Functional films
(industrial, electronics, and optics use)
Tape and tape materials
(base materials, liners, and various chemicals)
Silicone
(Adhesive, Release Coatings, Catalyst)
Hygienic supply materials
(non-woven fabric, etc.)
Fluorine resins
Phosphorescent materials(We provide LTI Corp. products that meet ISO/DIS 22578 standards.)
Transparent polyamide materials
Smart card materials
3D sensors and sensor materials
Industrial robots
Wireless chargers
Materials related to 5G technology

Sales department II

We sell semiconductor-related materials, electronic device materials, and various industrial materials.

Semiconductor and electronics peripheral components

Mask blanks
(semiconductors, photomask molds for FPD)
Pellicles
(anti-dust cover to protect photomasks)
Compound semiconductor wafers
Bottom Anti-Reflective Coating (BARC)
Semiconductor encapsulants
Dicing tapes
Semiconductor wafer coating materials
300mm silicon wafer
High-purity aluminum
Bayer processed aluminum
Various sensor materials

Components for processing equipment

Biotechnology

Adhesion-inhibiting coating materials for cell cultures

Sales Department III

We sell products and materials for energy-related fields such as energy generation and energy storage.

Energy generation

Solar power generation system peripheral components
(solar panels, power inverters, mounting structures)
Next-generation photovoltaic materials
(silver paste, encapsulants, silicon adhesives)
Wind power system peripheral components
(small wind turbine, power inverters)
Hydrogen energy peripheral components
(AEM electrolysers, fuel cells)
Fuels for biomass power generation

Energy storage

Lithium-ion battery materials
Lithium-ion battery cells
Modules
Battery assembly equipment
Capacitor materials

Energy conservation and thermal management

Cloud system for artificial intelligence service and blockchain technology
Low-power ARM enterprise servers for data storage
Components for motors and generators
Components for inverters and converters
Topics
Offering a wide range of materials and services for IoT business

The Information & Electronics Division III offers a wide range of products, from terminals used in the IoT to IoT-based services.

Basic process flow of IoT

The Sales Department I and II are engaged in business related to sensors and sensor materials, while the Sales Department III is developing business providing a series of IoT services.
For example, the following services are realized for electricity, water, and gas meter reading, which previously relied on manual labor.