Last Update February 7, 2020
Profile
Inabata & Co., Ltd. is a specialized trading company operating in four*1 business segments led by Information & Electronics and Plastics, followed by Chemicals and Life Industry. Inabata operates in about 60 locations in 17 countries around the world. Inabata is capable of responding to diverse and global needs of its clients, utilizing its highly specialized expertise in each business segment, offering a comprehensive service ranging from planning, logistics, and manufacturing/processing. Inabata operates multiple manufacturing/processing bases mainly in Asia. Close collaboration with clients gives Inabata access to the latest information on product developments and marketing trends. This is what makes Inabata's strategy to expand its trading business unique.

(Year Ended March 2019)
*1 On April 1, 2019, Inabata reorganized the business segments from five to four.
Share information
(July 26, 2019)
Market capitalization
(millions)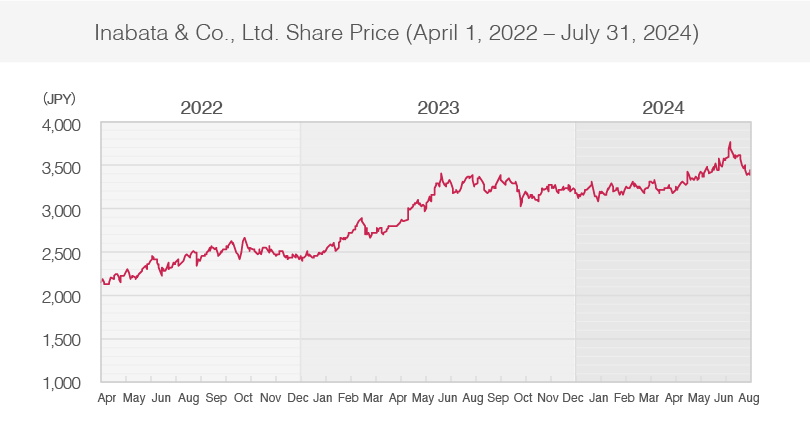 Investment Highlights
Net sales and profit reached record highs, returning to projected levels in the fiscal year ended March 2019, the second year of the medium-term business plan
In the fiscal year ended March 2019, the second year of the medium-term business plan, net sales and profit reached record highs thanks to strong performance in the key Information & Electronics and Plastics segments and relief from the impact of an allowance for doubtful accounts posted in a solar cell-related business of a European subsidiary in the previous fiscal year. Overall, both domestic and overseas sales in the Plastics segment were strong, including automobile plastics sales, an important area of focus. The Group is expanding business with parts manufacturers globally by leveraging its plastics compound business spread over eight locations in seven countries. Core liquid crystal-related sales in the Information & Electronics segment were also strong, primarily in China.
Medium-term business plan:
New Challenge 2020 (NC2020)
In its four-year medium-term business plan entitled NC2020 (final year: fiscal year ending March 2021), Inabata will focus on development of the automotive, life science & medical, environment & energy, and food, including agriculture, sectors.
Plastics Segment:
Inabata will focus on increasing shares in the automotive sector. The Group aims to expand its business in North America by boosting sales to key global clients and utilizing its plastic compounding facility in Mexico.
Information & Electronics Segment:
Under NC2020, the Group forecasts gradual growth in the liquid-crystal related business while it aims to continue expanding shares in the main Chinese market. It intends to focus on cultivating LED-related and new energy-related businesses while maintaining earnings from the copying machine/printer-related business.

Shareholder return policy will remain the same, with the benchmark of total shareholder return ratio set at 30% to 35%. Dividend for the fiscal year ending March 2019 was 48 yen per share and for the fiscal year ending March 2020 is planned to be 53 yen*2 per share.
*2 Updated on Feb. 7, 2020
Key strategies in
NC2020
1.
Further broadening and deepening of business outside Japan
2.
Focus on markets with growth potential and sectors that have yet to be developed
Continual development of the automotive, life science & medical, and environment & energy sectors
Launching new initiatives in the food business, including in the field of agriculture
3.
Further enhancement of information infrastructure essential for global management
Setting priority on what is best as a group
Further enhancement of global business management and standardization
4.
Stepping up investments to expand trading business
Making minority investments primarily to expand trading business
Considering majority investments but with limited risk and scale
5.
Continual review of assets and enhancement of financial standing
6.
Establishing global human resources management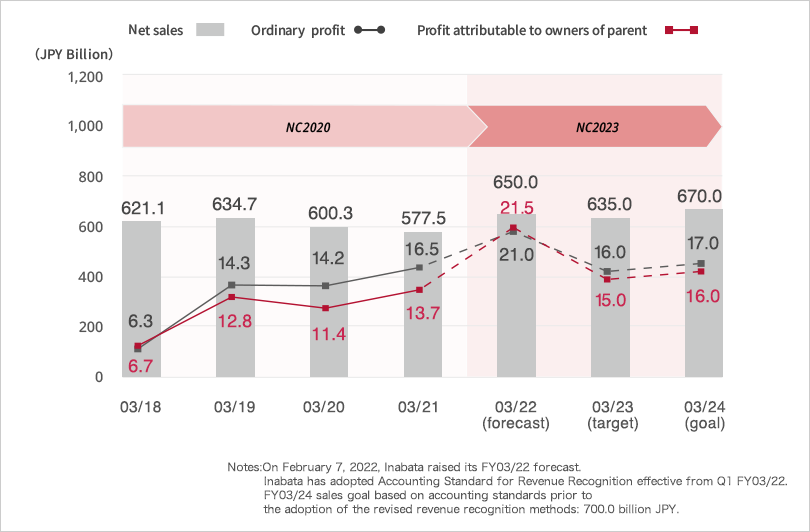 Additional strengthening of corporate governance
Inabata voluntarily established the Nominating and Remuneration Committee in 2015. The Group conducted a self-assessment of its Board of Directors in the fiscal year ended March 2019 and disclosed the results of this assessment and its future response.