Last Update February 25, 2021
Profile
Inabata & Co., Ltd. is a specialized trading company operating in four business segments led by Information & Electronics and Plastics, followed by Chemicals and Life Industry. Inabata operates in about 60 locations in 17 countries around the world. Inabata is capable of responding to diverse and global needs of its clients, utilizing its highly specialized expertise in each business segment, offering a comprehensive service ranging from planning, logistics, and manufacturing/processing. Inabata operates multiple manufacturing/processing bases mainly in Asia. Close collaboration with clients gives Inabata access to the latest information on product developments and marketing trends. This is what makes Inabata's strategy to expand its trading business unique.

(Year Ended March 2020)
Share information
(February 24, 2021)
Market capitalization
(millions)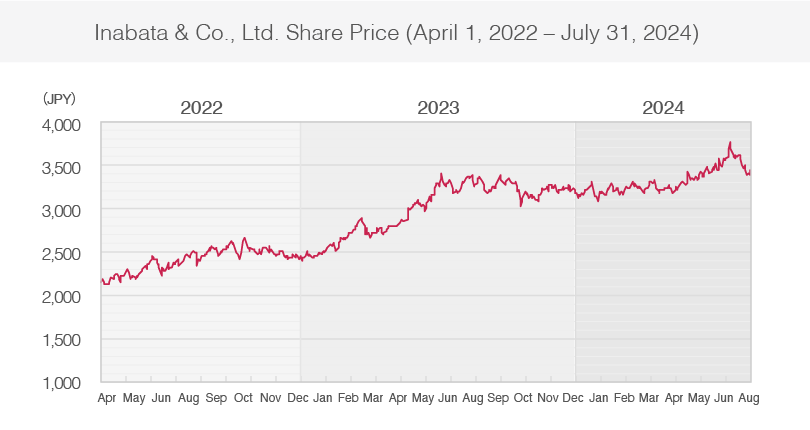 Investment Highlights
Impact of the novel coronavirus outbreak
In FY03/20, Inabata reported net sales of 600.3 billion yen, operating profit of 13.2 billion yen, ordinary profit of 14.2 billion yen, and profit attributable to owners of parent of 11.4 billion yen. The outbreak had a negligible impact on the Information & Electronics and Chemicals segments, but negatively affected the Life Industry and Plastics segments as it caused a decline in demand.
In FY03/21, Inabata expects the outbreak to have adverse effects on the Plastics and Chemicals segments, the automobile area, and its business in Southeast Asia. For FY03/21, the Company forecasts net sales of 550.0 billion yen, operating profit of 12.0 billion yen, ordinary profit of 12.7 billion yen, and profit attributable to owners of parent of 10.5 billion yen. The business environment is expected to remain harsh, but by embracing changes caused by the outbreak and solving customers' issues through leveraging its function as a trading company, the Company intends to capture demand and markets created under the new environment. Through these efforts, the Company targets earnings improvement.
Financial soundness and continuous dividend payment
In FY03/20, the net D/E ratio came to 0.16 (above target), indicating further enhancement in financial soundness.
In returning profits to shareholders, the Company has a policy of targeting a total shareholder return ratio of 30–35%. In FY03/21, despite lower net sales and profit forecasts, the Company plans to increase dividends from 53 yen per share paid in the previous year to 63 yen* per share.
* Updated on Feb. 25, 2021
Medium-term business plan: Expectations for focus areas
In the medium-term business plan New Challenge 2020 (NC2020), Inabata is focusing on the following four areas: Automotive, life science & medical, environment & energy, and food (including agriculture). Of these four areas, the Company is making steady progress in the sale of high-performance resins for automobiles in particular. Using the plastics compound business it operates in seven locations in seven countries to gain a foothold in the market, the Company is expanding transactions with global automobile parts manufacturers. In FY03/21, the global automobile production is projected to decline due to the impact of the novel coronavirus outbreak. This notwithstanding, the Company aims to grow its market share in the medium- to long-term by expanding its client base and product lineup.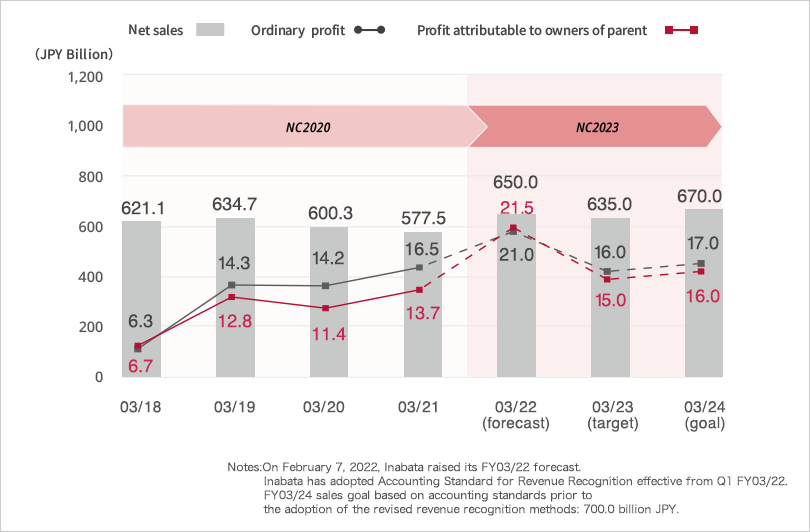 Additional strengthening of corporate governance
Inabata voluntarily established the Nominating and Remuneration Committee in 2015. The Group conducted a self-assessment of its Board of Directors in the fiscal year ended March 2020 and disclosed the results of this assessment and its future response.