Last Update September 1, 2021
Profile
Inabata & Co., Ltd. is a specialized trading company operating in four business segments led by Information & Electronics and Plastics, followed by Chemicals and Life Industry. Inabata operates in about 60 locations in 17 countries around the world. Inabata is capable of responding to diverse and global needs of its clients, utilizing its highly specialized expertise in each business segment, offering a comprehensive service ranging from planning, logistics, and manufacturing/processing. Inabata operates multiple manufacturing/processing bases mainly in Asia. Close collaboration with clients gives Inabata access to the latest information on product developments and marketing trends. This is what makes Inabata's strategy to expand its trading business unique.

(Year Ended March 2021)
Share information
(August 10, 2021)
Market capitalization
(millions)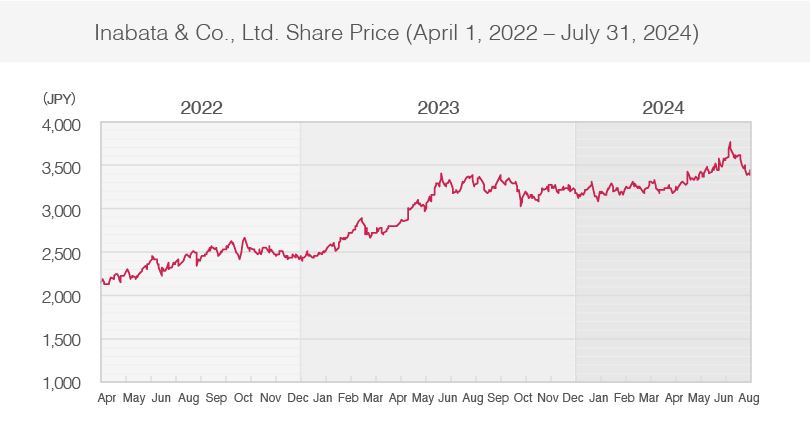 Investment Highlights
Profits hit record highs in FY03/21
All profit categories hit record highs despite the impact of the COVID-19 pandemic, thanks to a sharp recovery in business in the automotive field among others in the second half of the fiscal year and a decline in SG&A expenses. Ordinary profit and profit attributable to owners of parent reached their respective targets in the medium-term management plan NC2020. Net debt-to-equity ratio was 0.06, indicating further enhancement in the financial health. The Plastics and Chemicals segments posted sales declines due to the impact of the pandemic, but the Information & Electronics segment benefited from an increase in FPD-related sales in China.
New medium-term management plan, New Challenge 2023 (NC2023)
Develop business in the new energy field, and expand lineup of environmentally friendly products
FY03/22 is the first year of the three-year medium-term management plan NC2023. Inabata plans to expand its lineup of environmentally friendly products, an area with growth potential, and rollout initiatives to support and develop businesses in the new energy, 5G-related, and automotive/mobility-related fields in a multifaceted manner. Through these efforts, the Company aims to raise its earnings to a higher level.
In food and agriculture, Inabata will strengthen upstream and downstream expansion, including through various investments, to ensure profitability.
Inabata will review strategically held shares with a view to cutting them in half in three years. It will allocate funds raised from the sale of these shares to 1) growth investment, 2) enhancing shareholder returns, and 3) further strengthening the financial base, in a balanced manner.
Based on a sound financial base, Inabata will make aggressive investments aimed at expanding its trading business.
Adoption of progressive dividends
Inabata has adopted a new shareholder return policy of progressive dividends. During NC2023, Inabata intends to continuously increase its dividends year-on-year, with the amount paid in the previous fiscal year serving as the lower limit. In FY03/22, the Company plans to raise the dividend per share from JPY63 in FY03/21 to JPY70.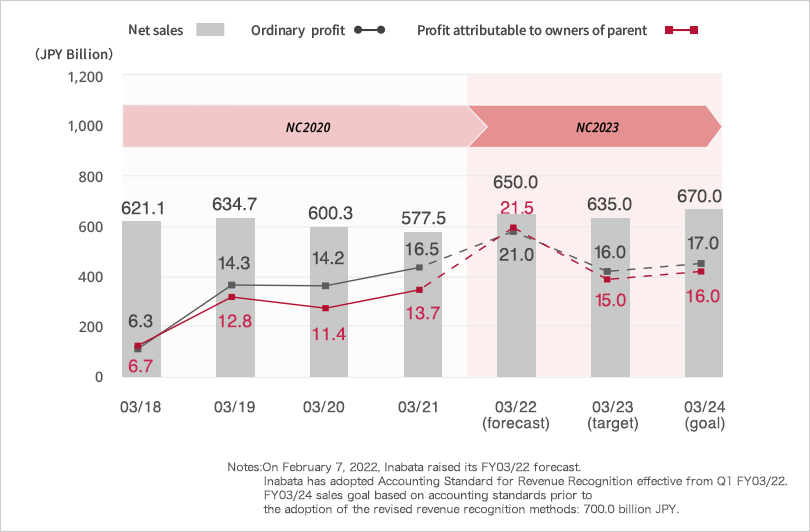 Additional strengthening of corporate governance
Inabata voluntarily established the Nominating and Remuneration Committee in 2015. The Group conducted a third-party evaluation of its Board of Directors in the fiscal year ended March 2021 and disclosed the results of this assessment and its future response.