We operate businesses centered on the environment and energy,
automobiles, and life sciences, taking advantage of our unique features and mobility.
Information &
Electronics

We deal in inkjet-related materials, materials for semiconductors, devices for generating hydrogen, and high-performance films.

Chemicals

We deal in materials for data recording papers, ink, and functional chemicals such as resin additives, as well as industrial filters.

Plastics

We sell high-performance resins and commodity resins for the automobile and home appliance industries.

Life Industry

We operate Pharmasynthese S.A.S. (France), which conducts R&D, manufacturing, and sales of pharmaceutical and cosmetic materials, as well as chemicals related to electronic materials. We are also involved in the food business.
Network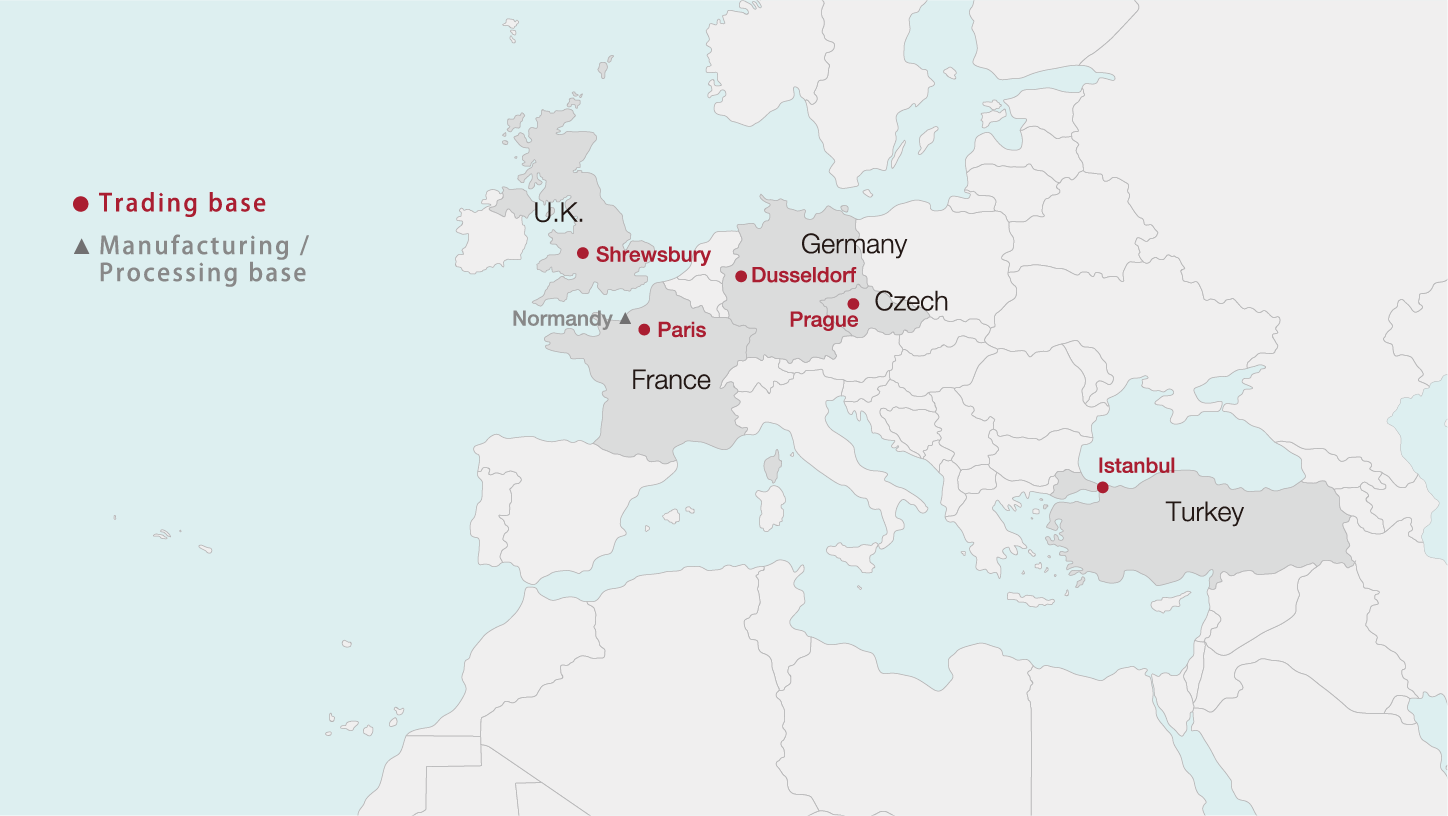 France

Import/export and sale of chemicals
TEL: +33-1-6049-1710 / FAX: +33-1-6049-1711
Immeuble Le Pelican 3 Avenue Jeanne Garnerin, 91320 Wissous, FRANCE

Manufacturing of fine chemicals
TEL: +33-2-3296-9780 / FAX: +33-2-3296-9789
57,Rue Gravetel 76320 Saint Pierre Les Elbeuf, FRANCE

Germany

Inabata Europe GmbH

Import/export and sale of electronic materials, chemicals, and synthetic resins
TEL: +49-211-95776-100 / FAX: +49-211-95776-200
Am Seestern 4, 40547 Dusseldorf, GERMANY

United Kingdom

Inabata UK Ltd.

Property management, warehousing
TEL: +44-1952-608-456
Office 17, Battlefield Enterprise Park, Stafford Drive, Shrewsbury, SY1 3FE, UK

Turkey

Inabata Singapore (Pte.) Ltd., Head Office Singapore Istanbul Main Branch
(Inabata Singapore (Pte.) Ltd., Merkezi Singapur Istanbul Merkez Şubesi)

Import/export and sale of synthetic resins, chemicals and electronic materials
TEL: +90-216-663-60-59 / FAX: +90-216-663-61-00
Barbaros Mah. Halk Cad. No.8/A Unit304 Palladium Ofis ve Residence Binasi Postal code:2 34746 Istanbul/Turkiye