Compounding – adding value to trading business
Stable supply at reasonable cost
The Inabata Group has developed its plastics compound business throughout Asia since the 1970s. At the time that Japanese consumer electronics manufacturers expanded in Southeast Asia, it was difficult to respond to changes in inventory management and demand since the majority of raw materials were supplied from Japan. Therefore, Inabata set up plastics compound plants near customer factories in Southeast Asia to ensure the stable and timely supply of plastics offering the same quality as materials made in Japan.
Due to the strengthening of the yen after the signing of the Plaza Accord, the overseas expansion of Japanese consumer electronics companies accelerated in the late 1980s, with new locations in countries such as Singapore, Thailand, and Malaysia. Inabata followed suit in order to respond to customer needs. Our company currently operates seven plants in seven countries (China, Vietnam, Thailand, Malaysia, Philippines, Indonesia and Mexico) with an annual production approximately of 180,000 tons (as of July 1, 2020).
Function of our production network with 7 overseas locations
As overseas business becomes more important for Japanese companies and as overseas manufacturing projects expand, the need to procure resin materials locally is also on the rise. Inabata has a resin compound plant at main overseas locations and is ready to handle the localization needs of customers and material manufacturers. Inabata is capable of supporting a smooth transfer of manufacturing facility to a different country, maintaining the same technology and quality management.
Annual production capacity of resin compounds(MT/Y)
China

12,600

Vietnam

42,000

Thailand

38,400

Malaysia

27,600

Philippines

10,800

Indonesia

37,200

Mexico

15,000
7 countries 7 locations:183,600MT/Y※As of July 1, 2020
Teaming up with trading functions
Wherever there is a resin compound facility, Inabata's local trading arm with experts on plastics business is there. In addition to the functions a trading company can provide such as distribution, inventory, information, and business ideas, Inabata is capable of offering meticulous service locally, through close collaboration by processing and trading experts. Backed by years of experience and knowledge on materials, Inabata is ready to provide technical assistance or speedy solutions to various situations.
Plastics compound production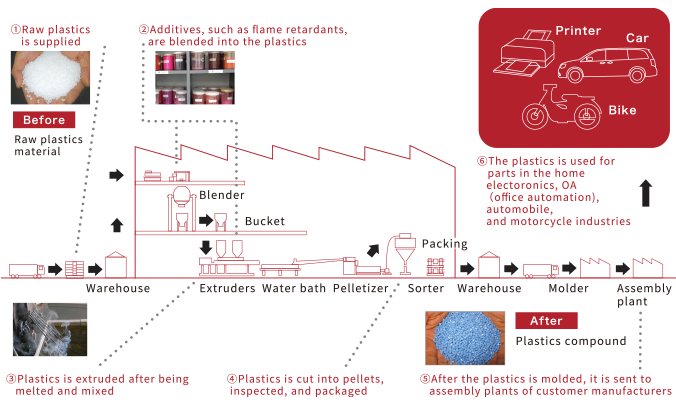 Norihiko EgawaGeneral Manager,
Plastics Compound Business Office