Enhancing Inabata's core business, utilizing its network spread across 22 cities throughout China, Taiwan, and South Korea.
Information &
Electronics

Sale of materials for polarizing films used for LCDs, diffuser plates, alignment layer materials, electronic parts for LCD backlight units, and LED materials and devices.

Chemicals

Sale of resin materials to the encapsulant industry, sale of rubber materials and specialty chemicals to the auto industry. Sale of various dyes and dyeing auxiliaries utilizing an R&D facility. Shanghai Inabata Fine Chemical is involved in the processing of coating materials designed for use in the auto, mobile phone, and personal computers.

Life Industry

Import and export of agricultural and marine products utilizing Inabata's global network, as well as sale of Chilean wines to mainland China. In Tianjin, in response to the increased awareness of food safety, we market traceable Australian hay to major Chinese dairy products manufacturers.

Plastics

Sale of commodities and high-performance resins to the motor vehicle, home electric appliance, office automation (OA), environmental and medical industries, as well as the sale of various resin compounds produced within the Inabata Group.

Housing &
Eco Materials

Sale of raw wood from the United States and European countries, as well as various kinds of flooring materials.
Network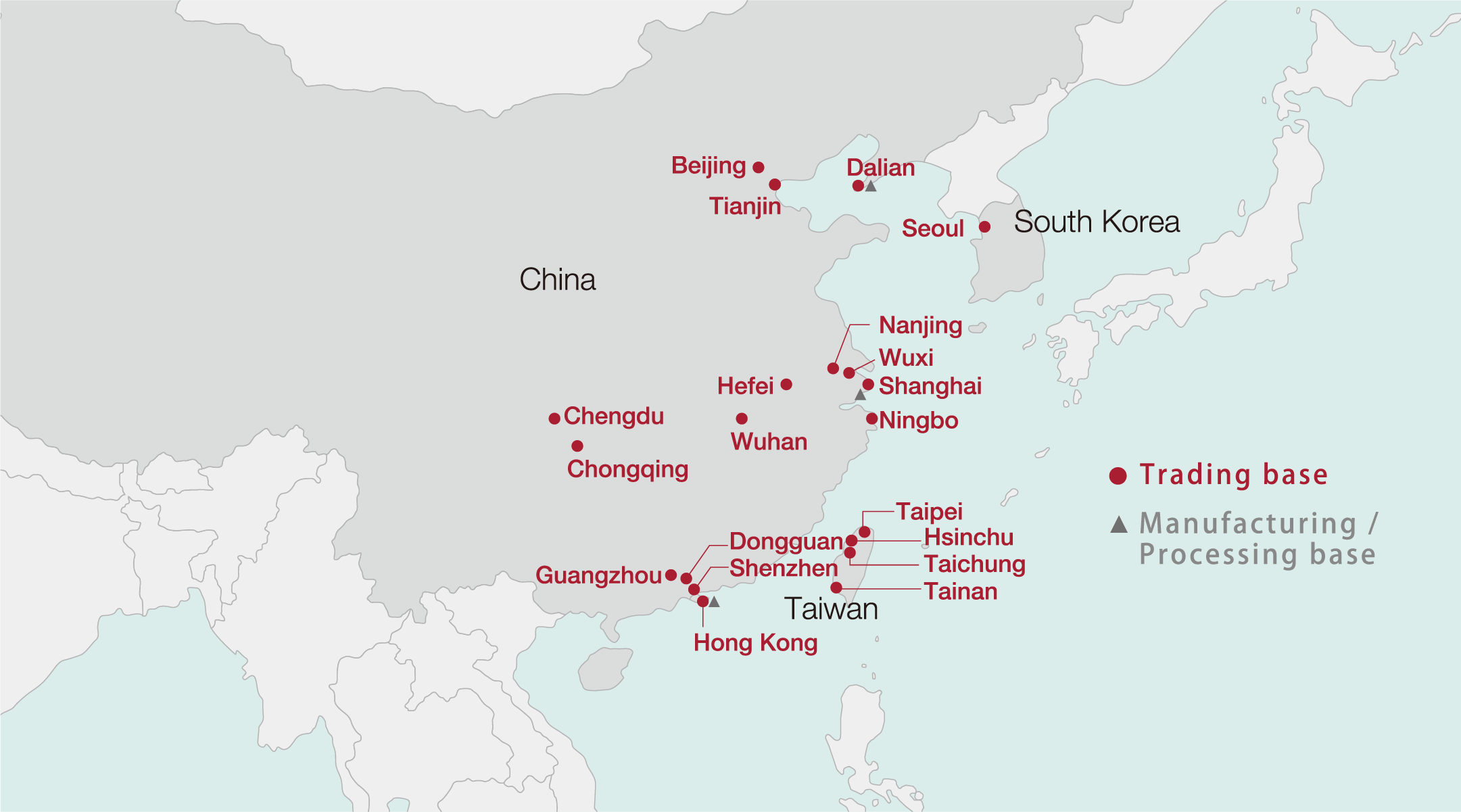 Northeast Asia

China

Guangzhou Inabata Trading Co., Ltd.

Guangzhou Inabata Trading Co., Ltd., Shenzhen Branch

Guangzhou Inabata Trading Co., Ltd., Wuhan Office

Inabata Industry & Trade (Dalian F.T.Z.) Co., Ltd.

Sanyo - IK Color (DG) Ltd.

Shanghai Inabata Fine Chemical Co., Ltd.

Shanghai Inabata Trading Co., Ltd.

Shanghai Inabata Trading Co., Ltd., Beijing Branch

Shanghai Inabata Trading Co., Ltd., Chongqing Office

Shanghai Inabata Trading Co., Ltd., Hefei Office

Shanghai Inabata Trading Co., Ltd., Nanjing Office

Shanghai Inabata Trading Co., Ltd., Ningbo Office

Shanghai Inabata Trading Co., Ltd., Qingdao Branch

Shanghai Inabata Trading Co., Ltd., Wuxi Office

Shanghai Inabata Trading Co., Ltd., Xiamen Office

Tianjin Inabata Trading Co., Ltd.

Hong Kong

Inabata Sangyo (H.K.) Ltd.

Korea

Inabata Korea & Co., Ltd.

Taiwan

Taiwan Inabata Sangyo Co., Ltd.

Taiwan Inabata Sangyo Co., Ltd., Taichung Office

Taiwan Inabata Sangyo Co., Ltd., Tainan Branch

Taiwan Inabata Sangyo Co., Ltd., Taipei Office