We leverage our network across 19 cities in China,
Taiwan, and South Korea to develop our core businesses.
Information &
Electronics

We sell polarizing films and alignment layer materials for LCDs, as well as materials for backlight units, including diffuser plates. We also sell various devices along with LED materials.

Chemicals

We sell specialty chemicals including materials for different types of coatings, high-performance resins, automotive rubber, and data recording papers. Additionally, group company Shanghai Inabata Fine Chemical Co., Ltd. (China) processes coating materials mainly for automobiles.

Plastics

We sell commodity resins and high-performance resins to the automobile and motorcycle, home appliance, OA equipment, environment, and medical industries. We also sell various plastic compounds leveraging our processing function.

Life Industry

We harness our global network to conduct trilateral transactions in agricultural and marine products with China in the center as well as export Chilean wines to China. In Tianjin, we market traceable Australian hay to major Chinese dairy products manufacturers in response to the increased awareness of food safety.
Network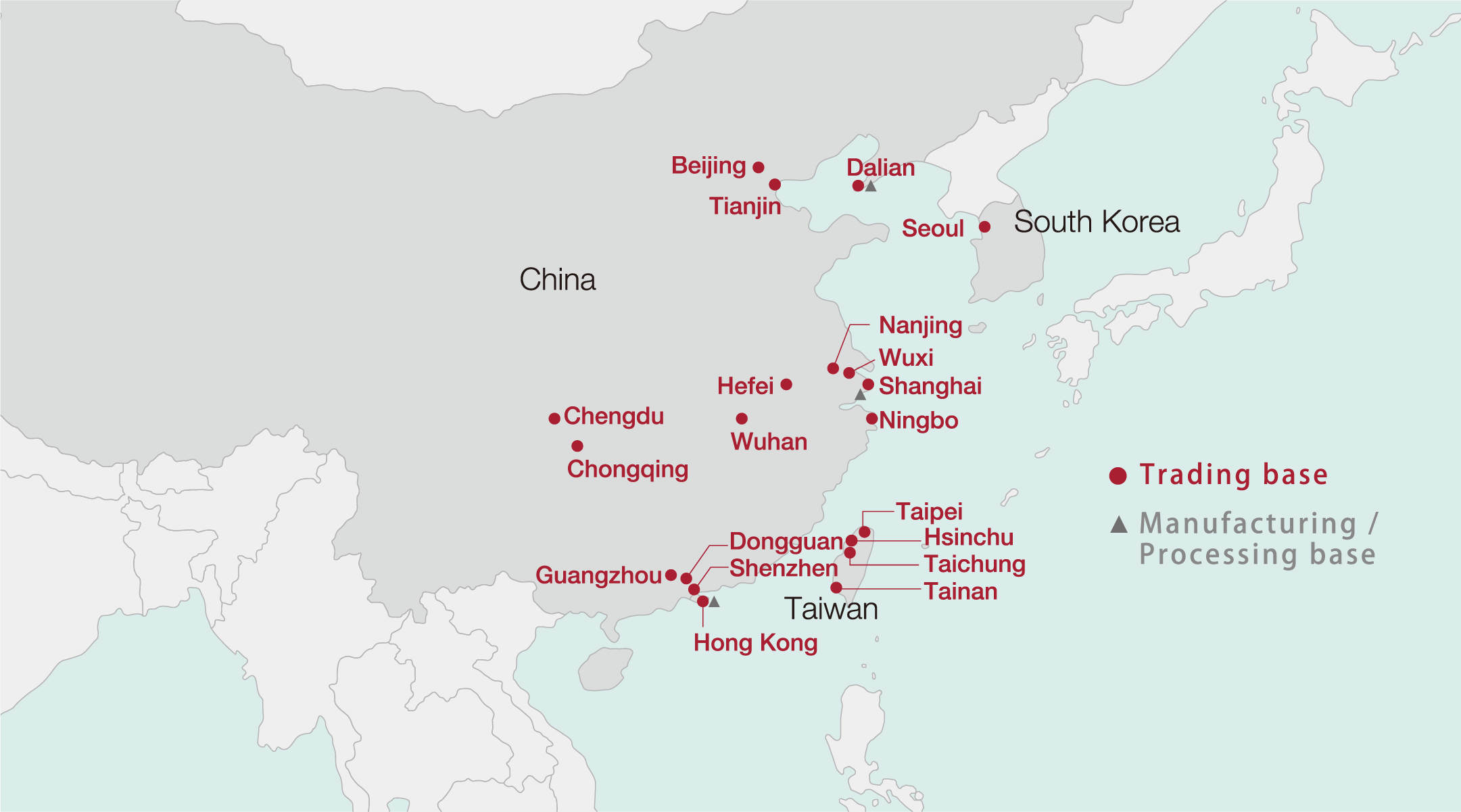 China

Guangzhou Inabata Trading Co., Ltd.

Import/export and sale of synthetic resins, machinery, electronic materials and chemicals
TEL: +86-20-85271379 / FAX: +86-20-85271263
Room 4116B, B Tower, China Shine Plaza, No.3-15, Linhexi Road, Tianhe District, Guangzhou 510610 Guangdong CHINA

Guangzhou Inabata Trading Co., Ltd., Dongguan Branch

TEL: +86-769-2225-4560/8271
Room 103, 116-118, Siheng Road, Zhuanyao Industrial Park,Wentang, Dongcheng District,
Dongguan, Guangdong 523121 CHINA

Guangzhou Inabata Trading Co., Ltd., Shenzhen Branch

TEL: +86-755-82690772 / FAX: +86-755-82690771
Room 3501, 35/F, Excellence Century Center Tower 4, Fuhua 3 Road, Futian District, Shenzhen 518026 CHINA

Guangzhou Inabata Trading Co., Ltd., Wuhan Office

TEL: +86-27-8586-4609 / FAX: +86-27-8544-9520
Room 1006, K11 ATELIER, No.626 Jiefang Avenue, Qiaokou District, Wuhan, Hubei 430030 CHINA

Inabata Industry & Trade(Dalian F.T.Z.) Co., Ltd.

Compounding of resins; Import/export and sale of synthetic resins and chemicals
TEL: +86-411-87324831 / FAX: +86-411-87324851
No.ID-31 Dalian Free Trade Zone Liaoning Province, 116600,CHINA

Shanghai Inabata Fine Chemical Co., Ltd.

Processing of coating materials
TEL: +86-21-3728-5170 / FAX: +86-21-3728-5171
No.358 Jinou Road, No.2 Industrial Park, Jinshan, Shanghai 201512, CHINA

Shanghai Inabata Trading Co., Ltd.

Import/export and sale of synthetic resins and chemicals
TEL: +86-21-6841-1780 / FAX: +86-21-6841-1785
43rd Floor, Hang Seng Bank Tower, 1000 Lujiazui Ring Road, Pudong New Area, Shanghai 200120, CHINA

Shanghai Inabata Trading Co., Ltd., Beijing Branch

TEL: +86-10-8526-1158 / FAX: +86-10-6525-0608
Room 25-D Citic Building No.19 Jian Guo Men Wai Avenue Beijing 100004, CHINA

Shanghai Inabata Trading Co., Ltd., Chengdu Branch

TEL: +86-28-8731-2685/+86-28-8689-5318
1103A, Xiongchuan Financial Center, No.166, Tianfu Second Street, High Tech Zone, Chengdu 610041, CHINA

Shanghai Inabata Trading Co., Ltd., Chongqing Office

TEL: +86-23-6332-8227
Room 1512(Office Tower) Metropolitan Oriental Plaza, No.68 Zourong Road, Central District,Chongqing 400010 CHINA

Shanghai Inabata Trading Co.,Ltd., Hefei Office

TEL: +86-551-6420-1278
Room 508-509, B Building, Ligang International Building, North Tongling Road and Yinghe Road Intersection, Xinzhan District, Hefei City, Anhui Province, 230011 CHINA

Shanghai Inabata Trading Co., Ltd., Nanjing Office

TEL: +86-25-8311-9270
Yunfeng Building 27F, No.8 Zhongshan North Road, Gulou District, Nanjin 210024 CHINA

Shanghai Inabata Trading Co., Ltd., Ningbo Office

TEL: +86-574-2686-0858 / FAX: +86-574-2686-0859
Room 1212 Ningbo Harbor Building, 301 Mingzhou Road, Beilun, Ningbo City, Zhejiang 315800 CHINA

Shanghai Inabata Trading Co., Ltd., Wuxi Office

TEL: +86-510-8532-3385 / FAX: +86-510-8532-3384
No.61, Xin Mei Road, A New Zone, Wuxi, Jiangsu, 214028, CHINA(住化電子材料(無錫)有限公司内)

Tianjin Inabata Trading Co.,Ltd.

Import/export and sale of synthetic resins and chemicals
TEL: +86-22-23118270/1 / FAX: +86-22-23118273
Unit 807 Tianjin International Building No.75 Nanjing Road Tianjin, P.R., CHINA

Hong Kong

Inabata Sangyo (H.K.) Ltd.

Import/export and sale of synthetic resins, machinery, electronic materials and chemicals
TEL: +852-2521-3669 / FAX: +852-2810-4807
Unit 2513-2515, 25/F, Mira Place Tower A, 132 Nathan Road, Tsim Sha Tsui, Kowloon, HONG KONG

Korea

Inabata Korea & Co., Ltd.

Import/export and sale of electronic materials
TEL: +82-2-2052-8550 / FAX: +82-2-2052-8552
Room no.1, 9F, 17, Teheran-Ro 88-Gil, Gangnam-gu, Seoul, 06180, KOREA

Taiwan

Taiwan Inabata Sangyo Co., Ltd.

Import & export and sale of electronic materials, semiconductor-related equipment and chemicals
TEL: +886-3-571-3300 / FAX: +886-3-571-3833
2F, No.178 Sec.2 Gongdao Wu Rd., Hsinchu City 30070, TAIWAN (Nan Shan Hi-Tech. Building)

Taiwan Inabata Sangyo Co., Ltd., Taichung Office

TEL: +886-4-2358-6200 / FAX: +886-4-2358-6300
925, 8F-8, Sec.4, Taiwan Blvd., Xitun District, Taichung City 40767, TAIWAN

Taiwan Inabata Sangyo Co., Ltd., Tainan Branch

TEL: +886-6-599-6990 / FAX: +886-6-599-7136
Room No.510 5F-2, 17 Guoji Rd., Xinshi Dist., Tainan 74442, TAIWAN

Taiwan Inabata Sangyo Co., Ltd., Taipei Office

TEL: +886-2-2531-7098 / FAX: +886-2-2531-7068
7F-1 Buffett Financial Center, No.318, Songjiang Rd., Zhongshan Dist., Taipei City 10468, TAIWAN