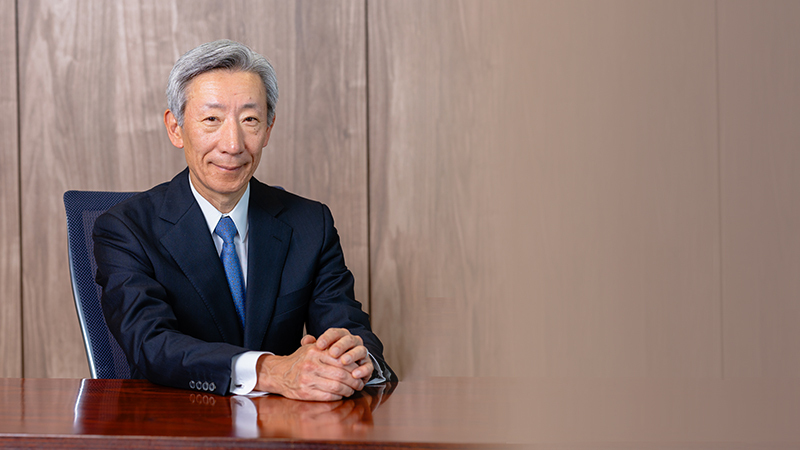 To Our Shareholders
and Investors
I would like to take this opportunity to thank our shareholders and investors for their continued support.
Inabata Group has been working on a three-year medium-term business plan,
New Challenge 2023
(
NC2023
), starting in April 2021, as the second stage toward the realization of its long-term vision,
IK Vision 2030
.
As a result of group-wide efforts to achieve this plan, consolidated results for the fiscal year ended March 31, 2022, the first year of the plan, have rapidly recovered from the slump caused by COVID-19 in the previous fiscal year. Rising sales prices, including resin prices, and the yen's depreciation also provided a tailwind, enabling us to achieve record-high sales and profits. Consequently, we were able to achieve results that exceeded our targets for the fiscal year ending March 31, 2024, the final year of
NC2023
.
We have thus reviewed the targets and indicators for the final year of
NC2023
in light of the recent business environment and future outlook. Our revised targets are net sales of ¥800.0 billion, operating profit of ¥20.5 billion, ordinary profit of ¥21.5 billion, and profit attributable to owners of parent of ¥22.5 billion. In terms of indicators, we target ROE of 10% or more. In addition to improving profitability, we will optimize capital efficiency by reducing stock holdings and other measures to make ROE of 10% or more the norm. In terms of qualitative targets, we will continue to work on the six key initiatives without revising them.
In recent years, companies have been increasingly required to demonstrate continuity and sustainability. In response to this trend, we established the Sustainability Committee in October 2021 to address various issues related to the global environment and society as important management issues, and in November, we established the Sustainability Basic Policy and Code of Conduct.
In the sustainability-related business, we position the environment and new energy fields, which we focused on in the previous medium-term business plan,
New Challenge 2020
, as growth fields and plan to allocate management resources to them with priority. Specifically, we aim to generate solid profits and contribute to the realization of a sustainable society through multifaceted efforts in business fields that reduce environmental impact, such as photovoltaic power generation, lithium-ion batteries, and hydrogen-related businesses.
Lastly, at the 161st Ordinary General Meeting of Shareholders held on June 22, 2022, we resolved to transition from a Company with Audit and Supervisory Board to a Company with Audit and Supervisory Committee. After the transition, the Board of Directors will consist of six independent outside directors, a majority of the eleven directors, and will fully embody a supervisory board with enhanced oversight functions.
It is not easy to foresee changes in the post-pandemic world, and the conflict between Russia and Ukraine may pose various risks to the global economy. Thus, we expect the environment surrounding our group, which operates globally, to remain uncertain. However, our business model, which is based on fulfilling our functions as a trading company, remains unchanged. While responding to changes in the environment, we will strive to further improve profitability and continuously enhance corporate value by steadily implementing the key initiatives to achieve the revised targets of
NC2023
.
I humbly ask our shareholders and investors for their continued support as we move forward.
1) Our dividend policy is to set the previous fiscal year's dividend per share as the minimum dividend per share for the current fiscal year, with the aim of continuously increasing the dividend without reducing it.
2) Total return ratio (%) = (dividend amount + amount of treasury shares acquired) / consolidated net income x 100
July 2022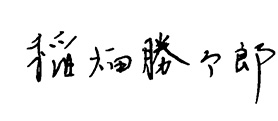 Katsutaro Inabata
Director, President
Reference NC2023: Revision of Final Year Goals and Performance Indicators
FY03/24
Initial goals
Revised goals
Net sales
¥670.0 billion
¥800.0 billion
Operating profit
¥16.5 billion
¥20.5 billion
Ordinary profit
¥17.0 billion
¥21.5 billion
Profit attributable to owners of parent
¥16.0 billion
¥22.5 billion
ROE
8% or more
10% or more
Net debt/equity ratio
0.3x or less
0.5x or less
Equity ratio
50% or more
Approximately 40–50%
Exchange rate
USD1=¥105.00
USD1=¥120.00
【Key Initiatives】
Further development of core businesses and horizontal expansion into growth sectors
Multi-faceted approach to markets with potential for future growth and steady monetization efforts
Intensification of investment targeting future growth
Further upgrades to global management information infrastructure
Continuous review of assets and further improvement of capital and asset efficiency
Enhancement of human capital utilization efforts