Focusing on global expansion of auto parts, auto parts materials, and coating materials
Chemicals Division provides high-performance materials for the auto parts, tire, and electronic materials industries, and materials and additives for the plastics, rubber, and textile industries. We also sell various resins and coating materials to the paint, ink, adhesives, and paper industries.
In Japan, we have two unique subsidiaries related to the Chemicals Division: Inabata Fine Tech Co., Ltd., a trading company which handles products that require expertise, such as dyes; and Inabata Nanodax, Co., Ltd., a provider of plastic compounds reinforced with glass wool.
Overseas, we have subsidiaries related to our division, such as Shanghai Inabata Fine Chemical Co., Ltd. in China, which produces hardeners for urethane paints. In Thailand, Hi-Tech Rubber Products Co., Ltd. manufactures various kinds of molded rubber products. Such affiliates allow us to supply customers around the world with the materials that they need.
Our aim is to be a trading company always able to satisfy customer needs, with a special focus on the supply of auto parts and various kinds of coating materials.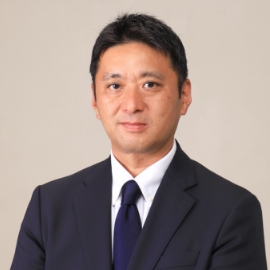 Yoshiya OdaExecutive Officer
General Manager,
Chemicals Div.
Products
Sales Department I

Providing high-performance chemicals for a wide range of industries such as auto parts and electronic materials. Sales of materials and additives for resins, rubber, and textile industries.

Auto parts and their materials

Electrical components (heat dissipating materials, heat-resistant adhesives, etc.)
Interior components (functional films, functional adhesive tape, display parts, etc.)
Various rubbers
Elastomers
Thermosetting resins (phenol, etc.)
Rubber molded products
Functional fibers and their materials (aramid fibers, polyester fibers, etc.)
Inorganic chemical products (zirconia, etc.)

Resins, rubbers, compound materials, functional fibers

Resin materials (monomers, additives, antioxidants, ultraviolet absorbents, modifiers)
Compound materials (various types of fillers, glass fibers, etc.)
Special polyimide, amide materials
Polymerization catalysts, polymerization terminators, polymerization regulators

Fine chemicals, etc.

Various intermediates
(agricultural chemicals, functional chemical, electronic materials, etc.)
Custom synthesis
(asymmetric synthesis, acid chlorides, halogenation, nitration, reduction, Grignard reaction, ultra-low temperatures, silicon compound synthesis, high pressures, phosgene reactions, methylhydrazine reactions, etc.)
Photoresist materials
Agricultural materials

Sales Department II

Providing a wide range of resins and coating materials for paint, ink, adhesive and paper-making industries.

Nitrocellulose (Nobel NC products)

Various resins

Urethane (polyol, isocyanate)
Acrylic
Alkyd
Nitrocellulose
Silicone
Epoxy
PVA (Polyvinyl alcohol, poval)
Fluororesin
Various emulsions

Resin materials

Polyhydric alcohol
Acrylic ester
Methyl methacrylate
Various monomers

Additives

Viscosity modifiers (Elementis products)
Pigment dispersers

Various pigments

Organic pigments
Inorganic pigments (Carbon black, titanium dioxide, synthetic iron oxide pigments)

Various starches

Modified starches
Imported tapioca starches
Imported functional starches

Inorganic chemicals

Caustic soda
Oxygen
Aluminum sulfate
Polychlorinated aluminum
Soda chlorate
Aluminum hydroxide
Other inorganic chemicals

Chemicals for manufacturing papers

Sizing agents
Paper strengthening agents
Various dyes
Antifoaming agents
Modified starches

Chemicals for paper manufacturing process

Print suitability enhancers
Lubricants
Glues and adhesives
Various starches
PET films

Various films

Business Development Department

Supporting new businesses such as those related to Inabata Nanodax Co., Ltd., auto parts sales, and business related to building social infrastructure.
*You will be directed to The Dow Chemical Company site.
Topics
Mixing and stirring tank

Shanghai Inabata Fine Chemical

Shanghai Inabata Fine Chemical Co., Ltd. is a consigned manufacturer of hardeners for the highest-quality urethane coatings, which boasts a production capacity of 12,000 tons - the largest in China. The demand for urethane coatings is expected to further increase in China, such as for automobile top coats, automobile repairs, and plastics products. Its clients are major international coating manufacturers and its main suppliers of raw materials are major isocyanate manufacturers. The company is planning to expand its capability to custom process chemical agents other than hardeners for urethane coatings, as handling of dangerous materials becomes increasingly restricted in China. Shanghai Inabata Fine Chemical hopes to introduce its manufacturing technology around the world utilizing Inabata Group's global network.

Molded rubber auto parts: Hi-Tech Rubber Products

Hi-Tech Rubber Products Co., Ltd. in Thailand manufactures rubber components, mainly for use in the automotive industry. It specializes in precision parts made from high-functionality rubbers (silicone, fluorine, acrylic, H-NBR). The company is installed with resin molding facility and can assemble resin-molded products and rubber products, as well as bonding different types of materials.
The company eyes to market rubber parts as well as rubber/resin components for the evolving car electronics applications.

Inabata Nanodax: Developing brand new resin fillers

In November 2016, Inabata established Inabata Nanodax Co., Ltd. with a venture firm, Nanodax Co. Ltd., in its Tokyo Head Office. Inabata Nanodax is developing a brand-new resin filler made of glass wool. The filler is expected to improve malleability during resin molding (preventing warping and sinking marks), as well as the quality of surfaces on finished resin-molded products. Use in a wide variety of industries ranging from general store goods to automotive applications is anticipated.
Through collaboration with resin manufacturers, molded product manufacturers, and research and development organizations, Inabata Nanodax hopes to solidify this technology.
*Currently, Inabata Industry & Trade (Dalian F.T.Z.) Co., Ltd. manufactures Inabata Nanodax resin fillers.

Globally-recognized nitrocellulose of Nobel NC

Nitrocellulose is a membrane formation agent used in a wide variety of applications such as inks, paints, and manicure products. The nitrocellulose produced by Nobel NC Co., Ltd. (Thailand) is especially clear and its cubic granular shape makes it easy to handle.
Inabata's Chemical Division provides Nobel NC's globally-recognized high-quality nitrocellulose to a large number of manufacturers.

Inabata's solution proposals

Total solution for custom synthesis of intermediates

Inabata's Chemical Division conducts sale of materials, additives, and intermediates for resin, rubber, textile, and agrochemical industries. It provides solutions in a way that suits customer needs (local procurement, mass production, finding alternative manufacturers, etc.), establish a framework for custom synthesis of intermediates, and carry out proposals for comprehensive services and dispersed country risk using our global network.