We are focused on enhancing the information & electronics, plastics,
and life industry segments, while developing business mainly in Mexico and Brazil.
Information &
Electronics

We sell electronic materials, functional films, functional chemicals, dyes, and pigments for the LCD, solar cell, semiconductor, and imaging industries. We also sell decorative films for automobiles. In Mexico, we are in the industrial crane business mainly for automobiles.

Chemicals

We sell dyeing auxiliaries, coating materials, and functional chemicals such as additives to the auto-related, papermaking-related, and printing industries.

Plastics

We sell high-performance and commodity resins for the automobile and home appliance industries. In Mexico, we provide a wide range of services, mainly for the automobile industry, such as processing plastic compounds in addition to our trading function.

Life Industry

We import, export, and sell intermediates, active ingredients (APIs) and preparations for the pharmaceutical industry. In the food business we sell blueberries and other fruits in frozen form as well as frozen marine products, including fish used to make sushi at restaurants and for ready-made meals.
Network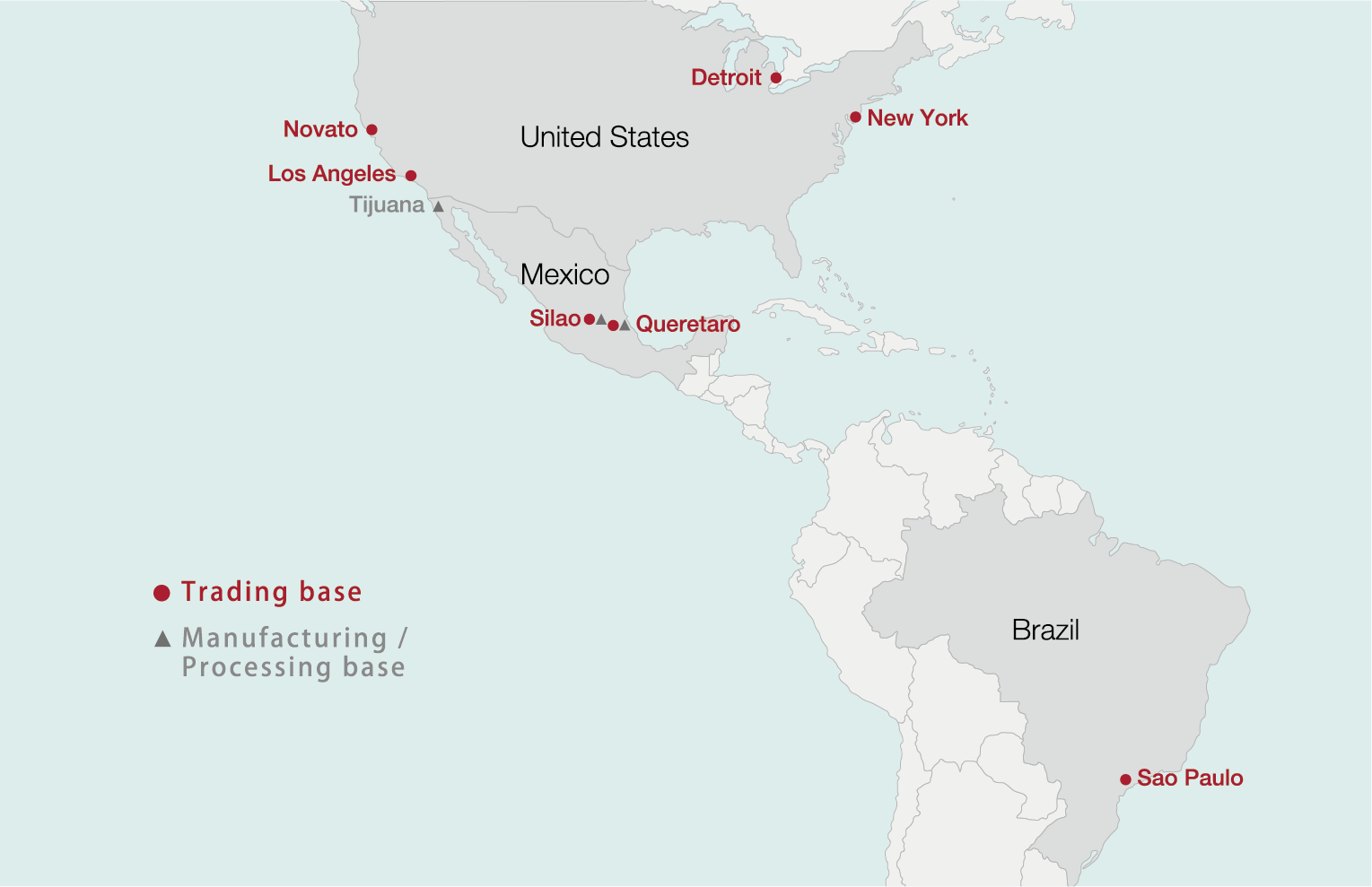 Brazil

Inabata Brazil Import and Export Ltd.
(Inabata Brasil Importação e Exportação Ltda.)

Sale of chemicals and synthetic resins
TEL: +55-11-3578-5985 / FAX: +55-11-3578-5976
Alameda Santos, 455 Conjunto 411/412 Sao Paulo-SP 01419-000 BRAZIL

Mexico

IK Plastic Compound Mexico, S.A. de C.V.

Compounding of resins
TEL: +52-472-103-9700 / FAX: +52-472-103-9710
Mina De Guadalupe No.462, Parque Industrial Santa Fe IV, Puerto Interior, C.P.36275 Silao, Guanajuato, MEXICO

Inabata Mexico, S.A. de C.V.

Sale of synthetic resins, food and chemicals
TEL: +52-442-229-3102/3/4 / FAX: +52-442-229-1637
Av. Paseo Monte Miranda No.5, Piso 4 Dpto. 601,
Fracc. Monte Miranda, El Marques, Queretaro,C.P.76240 MEXICO

NH Inabata, S. de R.L. de C.V.

Installation, distribution, and maintenance of overhead traveling cranes
TEL: +52-442-291-0675
Autopista Mexico-Queretaro Carretera Federal No.57 KM194+813, Bodega 1, Col. El Colorado, El Marques, Queretaro, C.P. 76246 MEXICO

NH Inabata, S. de R.L. de C.V., Tijuana Office

TEL: +52-664-630-4982 / FAX: +52-664-630-4817
Juan Cordero 10401-10 Zona Urbana Rio, Tijuana, Baja California Norte, C.P. 22010, MEXICO

USA