Shareholder Return Policy
The Company's shareholder return policy is based on a total amount of shareholder returns consisting of the amount of dividends combined with the amount of treasury shares acquired.
Basic policy on shareholder return during the period of the mid-term business plan NC2023 (Disclosed on February 7, 2022)
1) The actual amount of dividends paid in the previous fiscal year will be used as the lower limit for dividends per share, and the basic policy is to continuously increase the dividends without reducing them. (Continuation of progressive dividends).
2) The target for total return ratio is roughly 50%.
However, in any fiscal year when strategic shareholdings are sold and consequently, a substantial amount of cash-in is generated, shareholder return will be made without necessarily regard to the above target for total return ratio, comprehensively taking into account future funding needs, the Company's financial conditions, stock price, market conditions and other factors.
(*) Total return ratio = (amount of dividends + amount of treasury shares acquired) ÷ consolidated net income x 100
Dividends per share and shareholder return indexes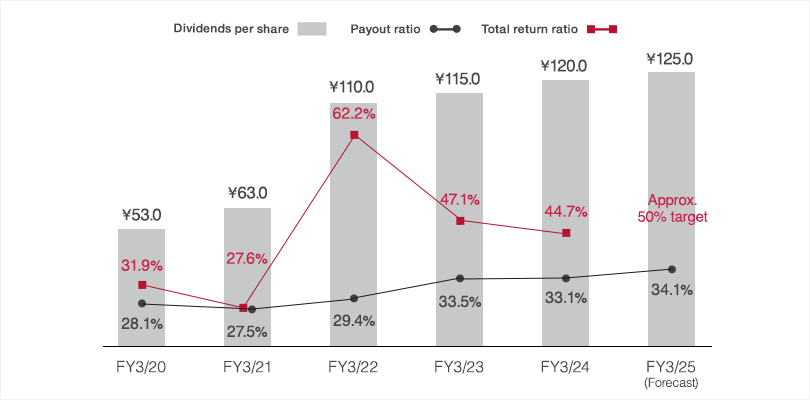 FYE
Dividend Per Share (Yen)
Remarks
2nd Quarter end
4th Quarter end
Full-year
3/23(Forecast)
50
65
115
3/22
30
80
110
3/21
20
43
63
3/20
20
33
53
3/19
20
28
48
3/18
20
20
40
3/17
18
22
40
3/16
16
20
36
3/15
15
18
33
3/14
11
19
30
3/13
10
13
23
3/12
9
12
21
3/11
7
19
26
Includes 2 yen of dividend to commemorate the 120th anniversary of the company.
3/10
5
5
10
3/09
5
5
10
3/08
5
5
10
3/07
6
6
12
3/06
20
3
23
Includes 17 yen of special dividend.
3/05
3
3
6
3/04
3
3
6
3/03
3
3
6
3/02
3
3
6
3/01
3
4.5
7.5
Includes 1.5 yen of dividend to commemorate the 110th anniversary of the company.
3/00
3
3
6