Sales of Nylon Film Initiated on Chinese Market
nabata & Co., Ltd. has initiated sales of nylon film produced by UNI FILM CO., LTD of China (President: Takashi Nakamoto, Location: Heibei Province) on the Chinese market. This easy to form, high-gas barrier properties and high-function nylon film will be sold to other Japanese plastic processors in the region.
UNI FILM CO., LTD was established by four Japanese companies: NAKAMOTO PACKS Co. (http://www.npacks.co.jp/), Idemitsu Unitech Co., Ltd. (http://www.idemitsu.co.jp/ipc/unitech/), Sakata Inx Corporation (http://www.inx.co.jp/) and Inabata & Co., Ltd..
The company is managed by NAKAMOTO PACKS Co. while Idemitsu Unitech oversees the technological aspects of production.
In recent years, there has been a strong demand for nylon film for use in retort packaging and in packaging for food products with a high liquid content such as konnyaku (a jelly-like Japanese food). In addition, demand is expected to increase further in the future.
Following completion of construction of the company plant on July 3rd, UNI FILM CO., LTD carried out test production and performed tentative sales operations in October. This however marks the initiation of full-fledged production and market sales.

Name: UNI FILM (CHINA)CO., LTD
Established: 2003/03/31
Paid in capital: JP228M (at 2004/6/30)
President: Takashi Nakamoto
Employees: 43 persons
Address: Hui Yuan Road 12, Lang Fang City, Economy Technology Exploitation Section, Hebei Province, CHINA
Tel: (86)316-6075961
Fax: (86)316-6071590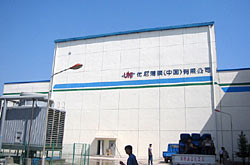 ---