Inabata to take part in CHINACOAT 2011

Inabata Group will take part in "CHINACOAT 2011" to be held at Shanghai New International Expo Centre (SNIEC), from November 23 to 25, 2011. 
CHINACOAT is a major exhibition in China gathering various products, raw materials, and technologies for coating industries (paint, ink, adhesives). More than 1000 exhibitors from 30 countries/regions will showcase their products and services.
At Inabata's booth, we will introduce various coating materials that are marketed for the high-end industries such as cellular phones, computers, automobiles (including auto-repair), and PCM (coil coatings).
Inabata Group booth:
Nitrocellulose (Nobel NC Co., Ltd.)
Hardener, OEM services (Shanghai Inabata Fine Chemical Co., Ltd.)
Pigments (Kikuchi Color & Chemicals Corporation)  
etc.
Dates: November 23 [Wed] - 25 [Fri], 2011
Venue: Shanghai New International Expo Centre (SNIEC)
Organized by: SINOSTAR INT'L LTD. / CHINACOAT EXHIBITION LTD.
Inabta booth: Hall: #E-3 Zone:4 Booth: 3A41-46
CHINACOAT official website: http://www.chinacoat.net/2011/visit_en.htm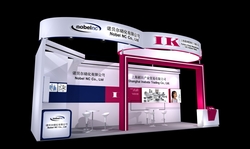 Image of Inabata Group booth
-------------------
Inquiry:
Shanghai Inabata Trading Co., Ltd  TEL:+86-21-6841-1780
---