Inabata to Exhibit at Display Taiwan 2013

Inabata will take part in "Display Taiwan 2013", an event sponsored by the Photonics Industry & Technology Development Association (PIDA). Display Taiwan 2013 will run for three days from Tuesday, June 18th to Thursday, June 20th, 2013 at the Taipei World Trade Center Nangang Exhibition Hall.
Display Taiwan 2013 is an international exhibition featuring flat panel displays (FPD).
Inabata will showcase products at its exhibition booth targeting the LCD, touch panel, and semiconductor markets. We will also display its digital signage monitors for advertising and use in elevators.
We hope you will visit Display Taiwan 2013 and look forward to seeing you at our booth.
Featured Product: SUPER-WIDE LCD
We will also have a panel display of other Inabata products, such as mask blanks, and laser cutting, marking, and patterning equipment for the LCD and touch panel industries.
Display Taiwan 2013 Event Information
Dates: Tuesday, June 18th to Thursday, June 20th, 2013
Hours: 10 a.m. to 5:30 p.m.
Venue: Taipei World Trade Center Nangang Exhibition Hall
Inabata Group Booth Number: I102
Sponsor:
Taiwan External Trade Development Council (TAITRA)
Photonics Industry & Technology Development Association (PIDA)
Taipei Computer Association (TCA)
Semiconductor Equipment and Materials International (SEMI)
Official Website: http://www.displaytaiwan.com/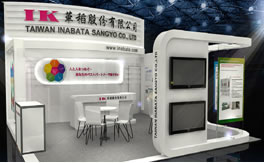 Inabata Group Booth (for illustrative purposes only)
-------------------------------
Contact Information:
Ms. Agnes Liu, Administrative Department, Taiwan Inabata Sangyo Co., Ltd.
Tel. +886-3-5713300
---