In 1890, the company got its start in Kyoto as Inabata Senryoten, importing and selling dyes and dyeing/weaving machines from Europe. Through sales of its merchandise to Japanese and non-Japanese clients around the world, Inabata accumulated specialized knowledge and expertise centered on the field of chemicals. We built bases around the world and developed human resources at each location. Most importantly, we cultivated trust-based relationships with customers. Inabata currently operates at around 60 locations in 18 countries in four business segments: Information & Electronics, Chemicals, Life Industry ,and Plastics.
Over a history spanning more than 130 years, Inabata has seen good times along with a number of difficult ones. Throughout, we have continued to grow a step at a time in tandem with our business partners as we provided merchandise and proposed solutions to meet the needs of the times.
The graph below shows how net sales have risen since 1976. As you can see, although the pace has been modest, Inabata has grown steadily.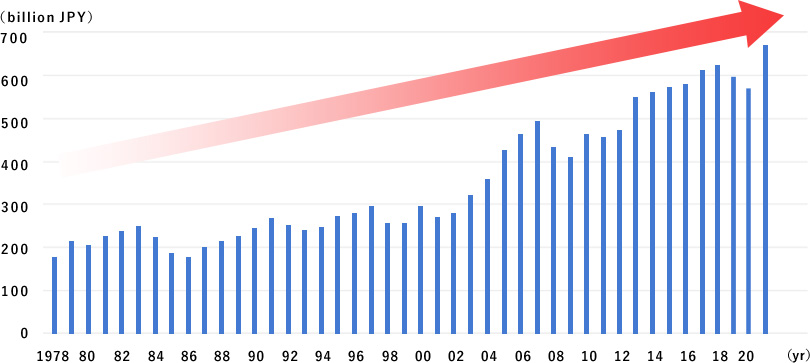 Note: Net sales before 1990 are unconsolidated figures.
Inabata is a trading company.
In recent years, some trading companies have shifted their focus to investment activities or manufacturing. Inabata instead aims to further develop its multi-faceted trading function, by enhancing its level of sophistication in areas such as manufacturing, logistics, and finance.
To clarify its target to the stakeholders, in May 2017 Inabata formulated and announced the IK Vision 2030, a long-term vision outlining where we wish to be as a company around the years 2030.
Long-term Vision:IK Vision 2030
What Inabata envisions to be in years
around 2030
Function

Further enhancing multi-faceted capabilities such as manufacturing, logistics and finance, in addition to trading.

Scale of operation

Achieving more than 1 trillion JPY in consolidated sales in early stage.

Sales and operating income generated outside of Japan

70% or more

Portfolio

At least one-third of sales and operating income from business segments other than Information & Electronics and Plastics segments.