Providing eco-friendly products through integrated business
The Housing & Eco Materials Division is responsible for the sale of building materials and housing equipment, and related materials such as lumbers, laminated timbers, wooden boards, chemicals including adhesives, and resins.
By developing an integrated business fully responsible for all stages of the production process, from supplying materials to the manufacture and distribution of end products, we strive to provide products that are convenient, traceable, and safe. We are also working to use certified forest products to expand our eco-friendly recyclable wood and wooden board businesses.
Japan-based residential construction companies, building material manufacturers and home equipment manufacturers are actively developing their business in China and Southeast Asia. In addition to trade with Japan, we are aiming to expand our business in those regions by utilizing our global network and collaborating with local enterprises. Furthermore, we will also be focusing on the sale of materials for non-housing sectors as well as housing sectors.
Amid constantly changing market needs, we will strive to remain a company valued and trusted by our customers.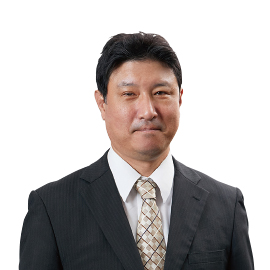 Yutaka TakahashiGeneral Manager,
Housing & Eco Materials Div.
Integrated business operations (from raw materials to product manufacturing and site delivery)
To handle the needs of a variety of end users, we handle a variety of materials ranging from lumber to raw materials for chemicals and finished products, carry out product development in cooperation with manufacturers, and also provide storage and delivery services as necessary.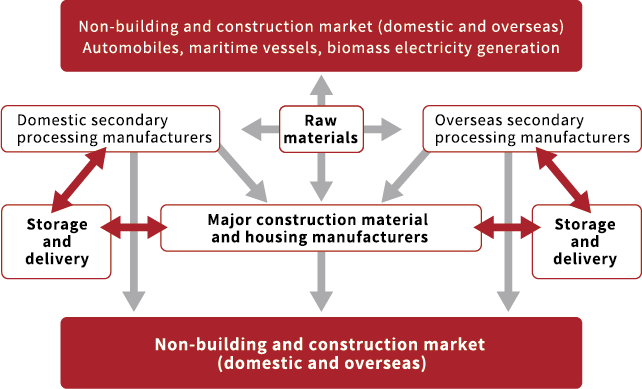 Products
Housing Materials Department

Sale of particle boards, lumbers, laminated timbers, building materials, and plastic products for housing manufacturers and building material manufacturers.

Imported lumbers

Laminated timbers
LVLs
Wood chips, etc.

Domestic lumbers

Wooden boards

Particle boards
Medium-density fiberboards, etc.

Building materials

Interior housing equipment
External housing equipment
Plastic products for housing
Metal products for housing, etc.

Plumbing Products

Bathtub parts
Kitchen parts
Toilet parts
Washstand parts, etc.

Eco Materials Department

Sale of materials and semi-finished/finished products primarily to housing equipment and manufacturers worldwide.

Chemicals

Various adhesives
Materials for insulation
FRP materials
Urethane materials, etc.

Resin materials

Molded products

Bathtub parts
Washstand parts
PC boards
PS boards
Aluminum products, etc.

Wood products

Floors
Stairs
Interior fittings, etc.

Solar photovoltaics

Dryers

High–frequency dryers
Microwave dryers, etc.

International Affairs Department

Liaising with overseas markets, support for companies launching operations abroad, and developing business related to building social infrastructure.

Imported lumbers

European and American raw wood
Lumber products

Domestic lumbers

Fiberboards

Particle boards
Medium-density fiberboards

Materials for building social infrastructure
Topics
Housing & Eco Materials Division deals with all kinds of eco-friendly materials and products for homes. Inabata has served as a sales agent for Japan Novopan Industrial Co., Ltd.'s particle boards for over 40 years. Particle boards are eco-friendly product made with materials from demolished buildings or underused lumber. Novopan has the top share of particle boards in Japan.
Visit the Japan Novopan Industrial website here. (Japanese only)

FSC® forest certified (COC certified) / PEFC forest certified (COC certified)

Housing & Eco Materials Division obtained "COC (Chain of Custody) Certification" in 2010 for its eco-friendly processing and distribution of lumber (up to the final product), produced in forests managed appropriately from environmental, social, and economic aspects.

Inabata has traditionally supplied a large quantity of lumber from forests certified by international forest certification organizations. COC certifies that the lumber is distinguishable in every stage of the supply chain up until the final product, and that eco-friendly products are being processed and distributed.
Inabata has been certified by international forest certification organizations Forest Stewardship Council ®(FSC®) and Programme for the Endorsement of Forest Certification Schemes (PEFC).
Approach toward eco-friendly products
Housing & Eco Materials Division is dedicated to handling eco-friendly products.
The division is capable of integrating business process, from procurement of materials to delivery of products.